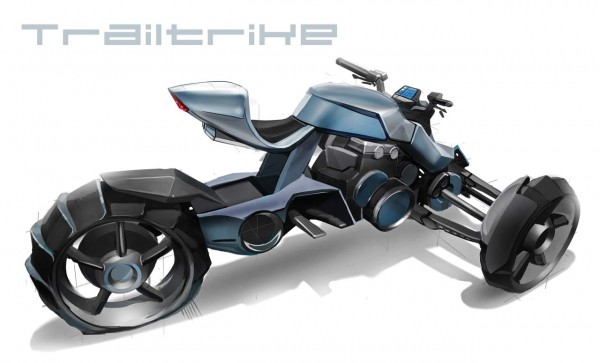 Facebook
The Bombardier TrailTrike Concept is the work of Charles Bombardier, the same Canadian engineering and vehicle design guru who oversaw the development of the BRP Can-Am Spyder. While working on the road-going Can-Am Spyder, he also imagined what an off-road version might look like. However it hasn't been until now that those visions have been realised in the form of a number of design sketches.
The TrailTrike concept features the same reverse tricycle layout as the Can-Am Spyder, but that's about where the similarities end. It's much lighter than its road-going counterpart, and naturally features significantly greater suspension travel. The proposed drivetrain of the TrailTrike is a 2-stroke E-TEC engine equipped with two output shafts, one providing power to the front wheels, and the other transmitting power to the solitary rear wheel. The transmission is a CVT unit.

In order to help the rider stay securely mounted, the TrailTrike features a "carving seat" which leans during cornering helping the rider shift their weight to the inside of the corner. An intelligent stability system can be programmed for either on or off-road use.