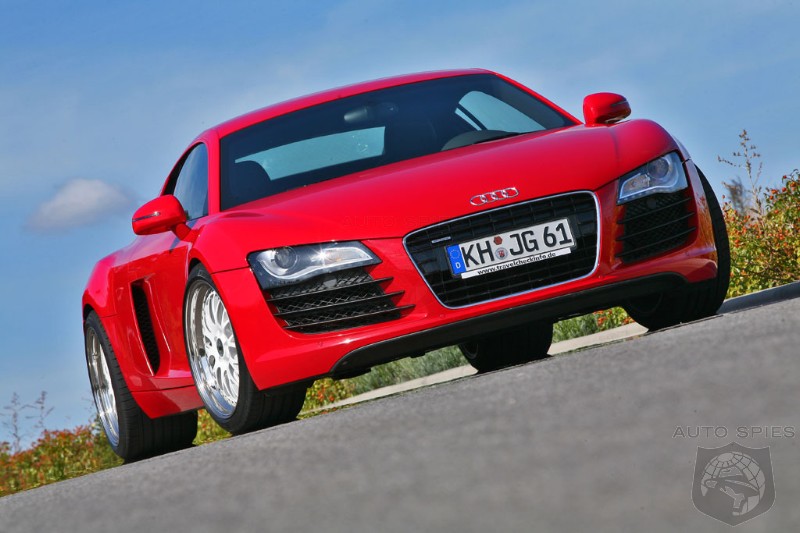 The latest coup from MFK Autosport is called
Audi R8
. Facts like 450 hp and customized Schmidt Revolution light alloy rims stimulates the appetite for a sports car
one of a kind.
An extra in driving dynamics and exclusive visual appearance are the amenities of the Schmidt Revolution Performance light alloy tires and they fill out the fender perfectly. With the Schmidt Revolution GT Performance the Audi R8 has found a strong partner because the three part GT Performance possess a secure running characteristic at extreme high speed. Responsible therefore is amongst other things the high gloss and extreme stable RADINOX-outer ring. The special high-grade steel alloy is absolutely free of corrosion.
The sporty elegant rims are really something special. The milled rim-star allows a maximum in fixedness - the novel construction of the rim-stars from Schmidt Revolution are now even more stable an lighter then comparable rim designs and are best choice for motorsports. Furthermore the GT Performance rims have an extreme light screwing made of titan and are individually produced according to the customer requirement.
The rims are mounted in a combination of 9×19" with 245/35-19 tires in front and 12,5×19" with 315/30-19 tires in the back. The complete set of wheel is available for 7.699,00 Euro at MFK Autosport.
Due to an improvement of the engine software MFK Autosport achieves 450 hp. The price of this improvement is 1.995,00 Euro. Upon request there is a premium sports exhaust system (Flap controlled sport exhaust systems) for 5.700,00 Euro available including mounting. For even more individualism MFK Autosport offers an extensive list with extra equipment, which fulfils almost every customer request.